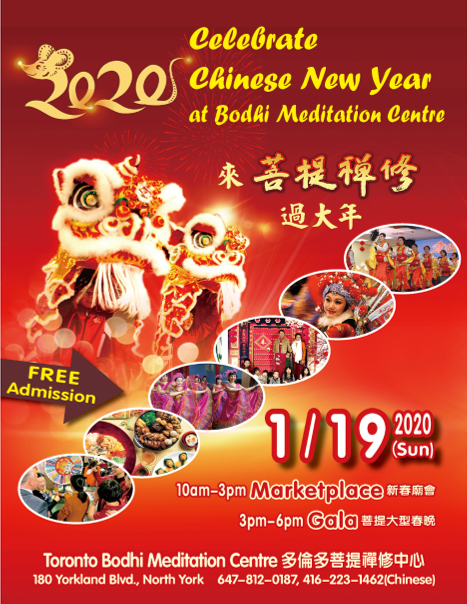 Enjoy Dragon and Lion Dances!  Blessings from the God and Goddess of Wealth and Fortune!
Join the Toronto Bodhi Meditation Centre to celebrate the Lunar New Year! 2020 is the Year of the Golden Rat, which has special significance in Chinese Culture for the following reasons:
Year of the Golden Rat appears only once in 60 years!
Its occurrence in 2020 coincides with the completion of 2 decades of the 21st century!
During this event, one can enjoy:
FREE Traditional Chinese Dragon and Lion Dances
FREE Blessings from the God and Goddess of Wealth
FREE Cultural Gala Performances
FREE Photo booth with Chinese New Year themed backdrop
Traditional New Year Vegetarian Delights
Marketplace vendors
… and signature Bodhi Meditation services for a most auspicious New Year:
FREE 1:1 Energy Healing
FREE Burning of First Incense for the year – it has been held that the first incense stick has the biggest merits and blesses people to a greater degree than usual!
FREE Bodhi Meditation Divine Lots can be drawn to seek guidance from Spirit
Bodhi Meditation Lamp Offerings for added protection and blessings throughout the New Year
… and special Bodhi Meditation Chinese New Year blessed novelties for one and all!
FREE Calendar
FREE Chinese New Year Posters: Door Gods, Spring, Couplets
FREE Handknotted bracelets
FREE Lucky Fortune Red Envelopes
Schedule:
10 am – 6 pm – Marketplace
3 pm – 6 pm – New Year's Gala performances on stage
Event Type: Festival

Organiser: Toronto Bodhi Meditation Centre
Website: https://www.eventbrite.ca/e/celebrate-chinese-new-year-of-the-golden-rat-tickets-87641224261?aff=ebdssbdestsearch

This event has finished. Celebrate Chinese New Year of the Golden Rat starts on
Date: Sun Jan 19, 2020
Time: 10:00 AM - 6:00 PM
Click on the button below to add this event to your Google Calendar:
This event has a location.
Please check "WHAT" section for pricing.
Celebrate Chinese New Year of the Golden Rat will feature these dance genres: