TORONTO'S LARGEST URBAN DANCE COMPETITION!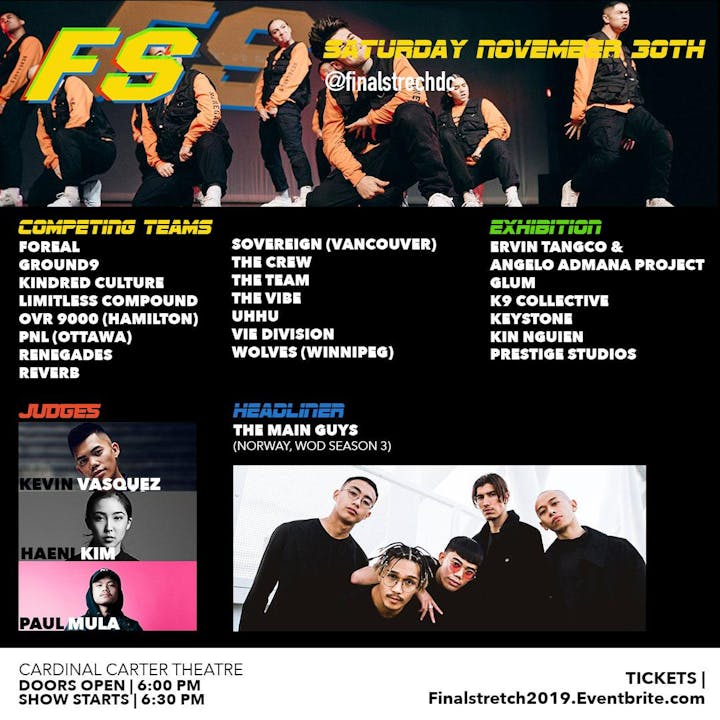 TORONTO!
We are super excited to announce that we will be hosting the very first Final Stretch Dance Competition on November 30th at the Cardinal Carter Theatre! Come out and see who will lift the final stretch cup this year!
[ JUDGES ]
PAUL MULA
HAENI KIM (KOREA)
KEVIN VASQUEZ (NORWAY)
[ HOST ]
DIAMOND OSOTEO
[EVENT PARTNERS]
RED BULL
PRESTIGE STUDIOS
CHURNT UP
+ MORE!
Event Type: Click to Select

Website:
https://www.facebook.com/finalstretchdc
This event has finished. Final Stretch Dance Competition starts on
Date: Sat Nov 30, 2019
Time: 6:00 PM - 10:00 PM
Click on the button below to add this event to your Google Calendar:
This event has a location.
Final Stretch Dance Competition will feature these dance genres: