A combination of uniqueness, energy, joy, and grace is what defines modern Bollywood dance. This beginner-level class will work through technique and style while building a fun short routine!
November 5, 12, 20 & 27
6:00PM – 7:00PM 
• No previous experience required.
• Washrooms are available for changing
• Please bring your water bottle.
20 drop-in spots available at each class (first-come, first-serve). Please arrive early to sign-in.
Shereen Ladha is a professional dancer, choreographer, artist, instructor, and social influencer based in Toronto, Canada. She is the owner and director of the popular YouTube channel 'dancewithSL' that has over 100K subscribers and 20 million+ views, and was selected by Google as one of YouTube's Next 15 Canadian Stars on the rise. DancewithSL is also the creative force behind several YouTube viral videos including viral sensation 'Maafi' – the Bollywood cover of Justin Bieber's 'Sorry,' and the hit touring stage shows 'Roots: A Journey Through India' and 'Rihla: From Roots to Dreams.'
Some of her highlights include:
Canada's Got Talent, PanAm Games, Toronto Raptors Halftime Shows, Jubilee Arts, Jubilee Games, Netflix 'Hemlock Grove,' WE Day, Dr, Cabbie, 'IIFA Rocks', TEDx Downsview Women, TIFF Bell Lightbox's 'Picture Palace,' Nuit Blanche Toronto.

Class Location & Arrival Information
Location: Meridian Hall (formerly Sony Centre) – Rehearsal Hall
Entrance: Yonge Street Entrance (located along Yonge Street on the west side of the building halfway between Front St. and Esplanade).
Doors will open at 5:00PM
TO Live Community Class Waiver Form. As a participant, you only need to complete and return this form once.  After that, you are eligible to participate in all community classes.  Copies of this form are available upon arrival at each class.
Accessibility: The Yonge Street Entrance has no steps and a button to open the doors. To get from the Yonge Street Entrance to the Rehearsal Hall, there are 29 steps or 2 elevators. Washrooms are located at the Rehearsal Hall level.
Questions: Contact us by email at education@tolive.com or call us at 416-368-6161 ext. 8242

Yonge Street Entrance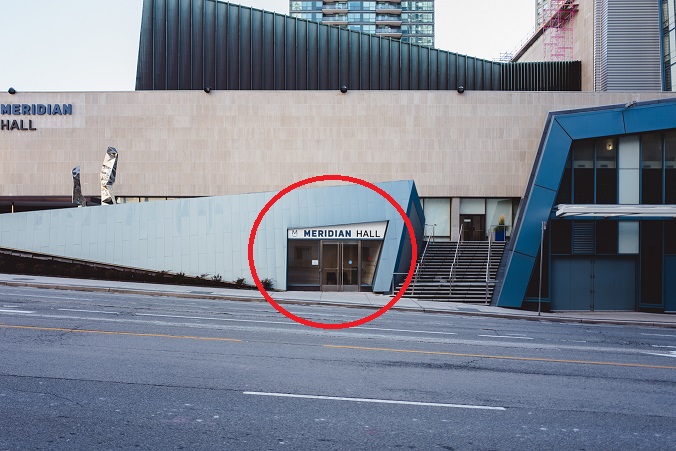 Event Type: Dance Class

Organiser: TO Live
Website: https://www.eventbrite.ca/e/free-bollywood-dance-classes-registration-77886317071?aff=ebdssbdestsearch

This event has finished. FREE Bollywood Dance Classes starts on
Date: Tue Nov 05, 2019
Time: 6:00 PM - 7:00 PM
Click on the button below to add this event to your Google Calendar:
This event has a location.
FREE Bollywood Dance Classes
is scheduled to take place here:
Meridian Hall
FREE Bollywood Dance Classes will feature these dance genres: