Moving Stories, is our dance-based arts program created in 2015 by Yvonne Ng, Artistic Director of tiger princess dance projects. Open to older adults ages 60 and beyond, this workshop offers an introduction into the enriching world of art, dance and creativity. Participants will be guided through an inspiring creative dance journey.
Participants will be led through fun, playful and gentle warm-ups as an introduction to the creative process. Dance and theatre arts will be explored through improvisation and gentle movement exercises.
Offering a window into the world of artmaking, Moving Stories is an opportunity for self-expression, sharing and most importantly, a chance to have fun. This program promises to be a positive, accessible and memorable experience for all.
For Older Adults ages 60 and beyond and suitable for participants with reduced mobility. Register through Eventbrite or call us at 416-368-6161 ext 8242!
TUESDAYS 10AM – 11:15AM
Week 1 – Tuesday, March 3, 2020
Week 2 – Tuesday, March 10, 2020
Week 3 – Tuesday, March 17, 2020
What will we do in the Three Week Program?
Each week will be a one hour and 15 minute session that builds upon the previous week. No previous arts (dance, music, visual or theatre) experience required. Only your curiousity and desire to experiment, enjoy and share.
Can I join in at any time or attend as a drop-in?
Yes! Although you will benefit more by attending all the classes, you can still join in at any time. Drop-ins are welcomed but we encourage participants to attend all three sessions if possible.
~~~~~~~~~~~~~~~~~~~~~~~~~~~~~~~~~~~~~~~~~~~~~~~~~~~~
About Yvonne Ng – Artistic Director, tiger princess dance projects
Born and raised in Singapore, Yvonne Ng is founder, choreographer, presenter, arts educator and artistic director of tiger princess dance projects (1996). The company's repertoire includes Yvonne's works and commissioned work, creating original roles for Bill James, José Navas, Dominique Dumais, Kevin O'Day, Marie-Josée Chartier, Robert Glumbek, Stephanie Skura and Tedd Robinson. tiger princess dance projects has toured to Singapore, Ireland, Italy, Germany, Australia, China, Canada and the USA.
Yvonne received her Masters in Intergenerational Practice at York University, and is a certified Open Source Forms©, Dance for Dementia (NBS Baycrest Sharing Dance) and Ashtanga Yoga teacher. Trained in Partners for Youth Empowerment Creative Facilitator (Level 1& 2), C-I Training™, Senior Fitness(CCAA) and Dance for PD™ (Parkinson's). She has taught at and created work for Ryerson and York University, University of Waterloo and for 6 years at Juniata College, Pennsylvania and the Nanyang Academy of Fine Arts and La Salle College of the Arts, Singapore.
Yvonne is the recipient of the 2017 Muriel Sherrin Award, the 2016 Jacqueline Lemieux Award, K.M. Hunter Artist Award, New Pioneers Arts Award, Chalmers Arts Fellowship, Soulpepper's Community Artist Award and the Ontario Premier's Awards for Excellence in the Arts – New Talent. In 2000, Yvonne received a Dora Mavor Moore Award for best performance and has received multiple nominations.
Photos are courtesy of tiger princess dance projects and taken by Irvin Chow
~~~~~~~~~~~~~~~~~~~~~~~~~~~~~~~~~~~~~~~~~~~~~~~~~~~~

Class Details & Location
Location: Rehearsal Hall at Meridian Hall (formerly Sony Centre)
Entrance: Meridian Hall's Rehearsal Hall is wheelchair accessible and the workshop entrance is through the Yonge Street Entrance (located along Yonge Street on the west side of the building halfway between Front St. and Esplanade)
Doors will open at 9:30AM
Suggested Attire: Please bring socks or soft dance slippers/shoes. We will be dancing in them. If you have ballet or jazz slippers, you're welcome to bring them.
Accessibility: The Yonge Street Entrance is accessible and has an automatic door opener. To get from the Yonge Street Entrance to the Rehearsal Hall, there are 29 steps or 2 elevators. Washrooms are located at the Rehearsal Hall level.
Waiver and Rules & Regulations: All new community class participants are required to sign a TO Live Community Class Waiver Form before participating. Copies will be provided at the class. Click here to view the To Live Community Class Rules & Regulations.
Questions? Contact us by email at education@tolive.com or call us at 416-368-6161 ext. 8242

Photo of Yonge Street Entrance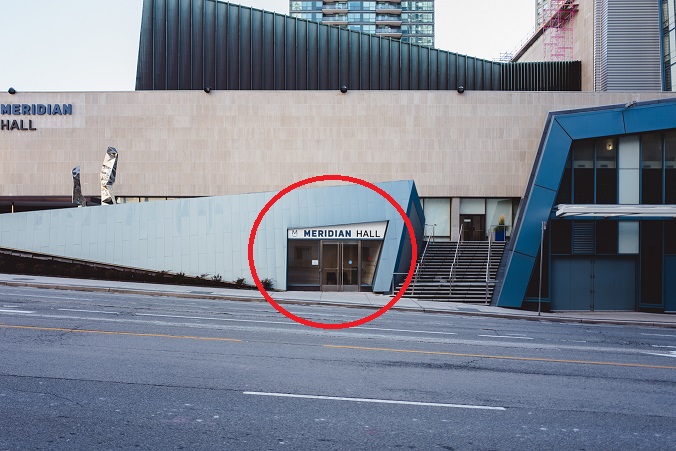 Event Type: Click to Select

This event has finished. FREE Moving Stories by Yvonne Ng: Three Week Seniors Movement Workshops starts on
Date: Tue Mar 03, 2020
Time: 10:00 AM - 11:15 AM
Click on the button below to add this event to your Google Calendar:
This event has a location.
FREE Moving Stories by Yvonne Ng: Three Week Seniors Movement Workshops
is scheduled to take place here:
Meridian Hall
Please check "WHAT" section for pricing.
FREE Moving Stories by Yvonne Ng: Three Week Seniors Movement Workshops will feature these dance genres: