Join us and help us choose your favorite dancer!
Afro'Dance NEW YORK presents
Virtual All Styles Battle
An entertaining online experience for dancers and dance lovers of all ages, featuring talents from all over the globe as they compete for first place.
This event will be hosted by Angel Kaba.
Dancers will compete in a 45 second to 1 minute freestyle battle with a live DJ.
$150 will be awarded to the best dancer.
We are accepting dancers from all over the globe!
You don't want to miss this groundbreaking event!
Want participate?
==> Send your videos to afrodancenewyork@gmail.com
#AfroDanceNewYork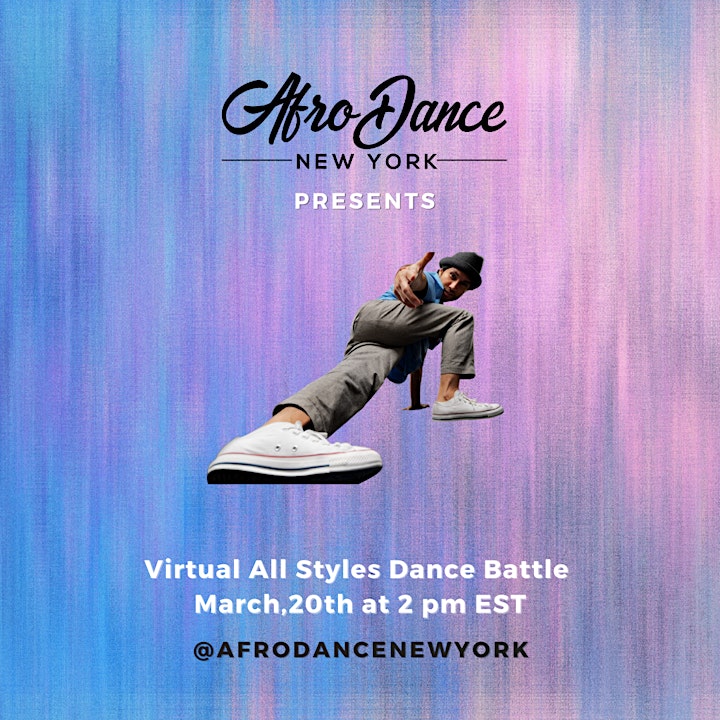 Event Type: Competition

This event has finished. FREE Virtual All Styles Dance Battle hosted by AfroDance New York starts on
Date: Sat Mar 20, 2021
Time: 2:00 PM - 3:00 PM
Click on the button below to add this event to your Google Calendar:
This event has a location.
FREE Virtual All Styles Dance Battle hosted by AfroDance New York
is scheduled to take place here:
** ONLINE
FREE Virtual All Styles Dance Battle hosted by AfroDance New York will feature these dance genres: