Join Movement Exchange & Aavegh Dance Troupe for a special workshop on Indian Dance styles.
IMPORTANT: REGISTER HERE TO SELECT YOUR CLASSES
Movement Exchange is partnering with international dance exchange alumni, Supna Jain, Taposhi Jarvis & Manjima Bose to present two weekends of Indian Dance styles with their company, Aavegh Dance Troupe, in the spirit of accessible dance education and cross-cultural exchange. This will be an opportunity for Movement Exchange and Aavegh's network of dancers, activists, educators, and learners to collectively explore Indian culture through dance.
All proceeds from this exchange will be split equally between Movement Exchange and Aavegh Dance Troupe.
ABOUT THE ORGANIZATIONS
Movement Exchange is a nonprofit organization whose mission is to unite dance and service through its network of university chapters, international dance exchanges, and year-round dance education programs in underserved communities in the US and abroad.
Based in Chicago, IL, Aavegh's innovative shows and pedagogy incorporate original dance, illustrations, poetry, expression, and heart to touch each of your senses. These elements are brought together to tell every day stories highlighting current issues affecting our society. It doesn't end there. We are not only driven by our artistic passions, but by the understanding that change is a possibility.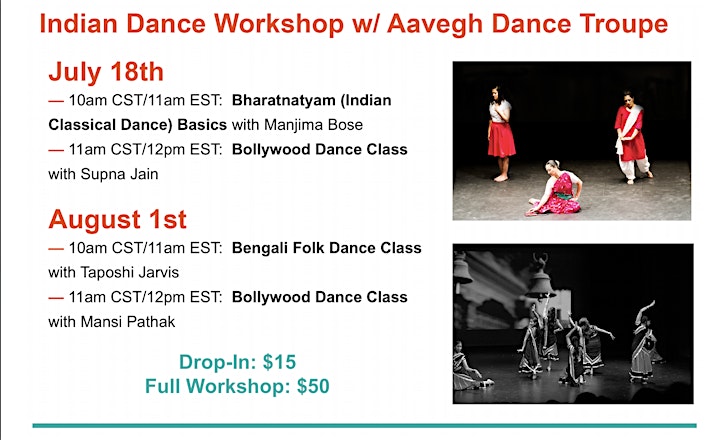 Event Type: Dance Class

This event has finished. Indian Dance Workshop with Aavegh Dance Troupe starts on
Date: Sat Jul 18, 2020
Time: 11:00 AM - 1:00 PM
Click on the button below to add this event to your Google Calendar:
This event has a location.
Please check "WHAT" section for pricing.
Indian Dance Workshop with Aavegh Dance Troupe will feature these dance genres: