Art, music, dance, family-friendly fun, food, and more! Celebrate summer with us at The Orchard Pavilion Aug 18 & 19. Get your tickets now!
Register now to secure your FREE spot on Friday Aug 18 2023 and Saturday Aug 19 2023 at The Orchard Pavilion (Downsview Park) Toronto, ON M3K 2C5.
Incredible art installations by Leila Refahi and Jieun Kim, delightful music in multiple genres by Big Smoke Brass Band, Nathan Baya, and Sean Stanley Trio, inspiring dance performances by Rakeem Hardy and Zoe Kwan with TOES FOR DANCE, and drag performances by Bombae of Canada's Drag Race, and one of Toronto's favourite drag kings Alexandher Brandy!
There's also lots of family-friendly fun for your young artists! Stop by our kite-making eco-friendly art station with OrfeEcoArt on Friday, and come back an exciting arts activation by the lake on Saturday, and hang out with Flamingos on stilts!
PLUS FOOD! Grab dinner, a snack, or discover your new favourite food vendor while you explore the art around the Orchard, with lots of delicious options to choose from!
Whether you're looking to gain new insights, connect with like-minded individuals, or simply want to participate in your local arts community, Inspire North is the place to be. Don't miss out on this incredible opportunity to celebrate the community. Mark your calendars and get ready to experience Inspire North.
Inspire North was made possible thanks to the support of City of Toronto, ArtsVest, Northcrest Developments, Canada Lands Company, and XOXO Downsview.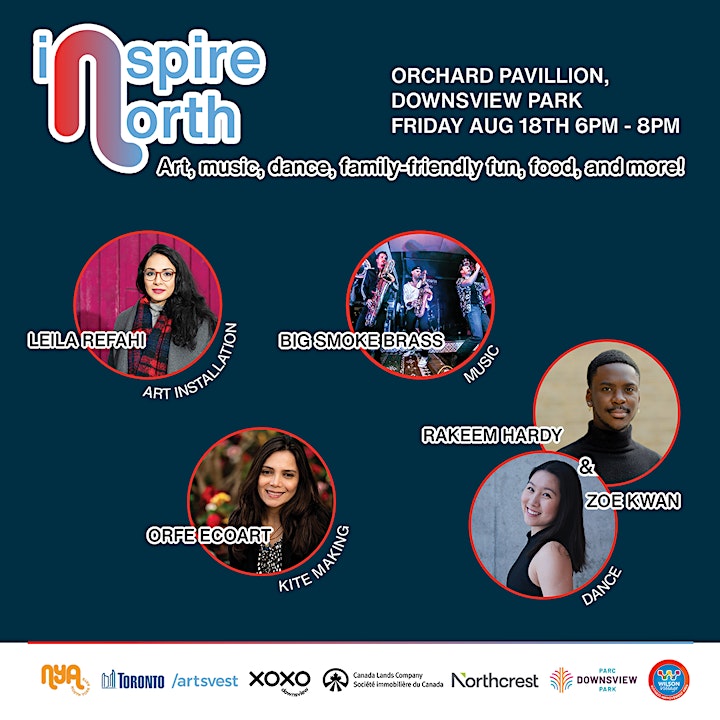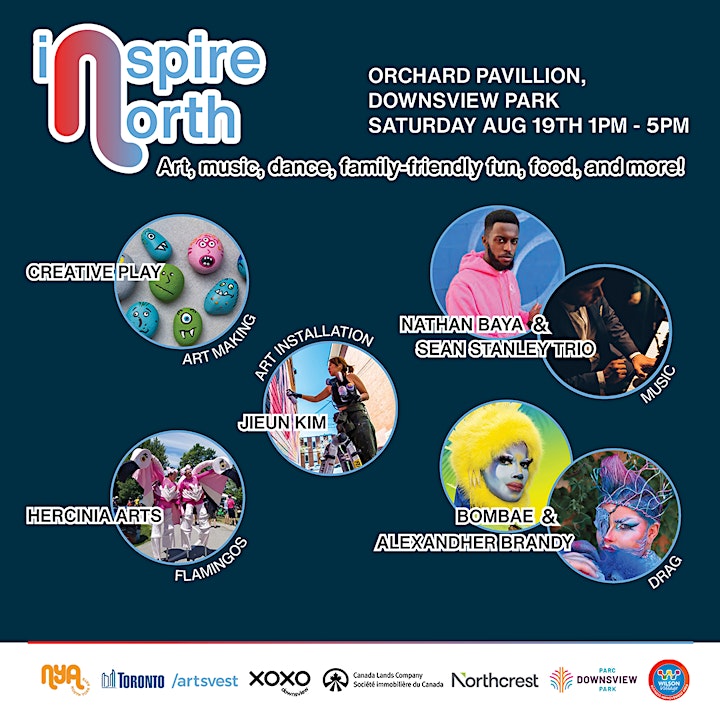 Event Type: Click to Select

This event has finished. Inspire North starts on
Date: Fri Aug 18, 2023
Time: All Day
Click on the button below to add this event to your Google Calendar:
This event has a location.
Please check "WHAT" section for pricing.
Inspire North will feature these dance genres: